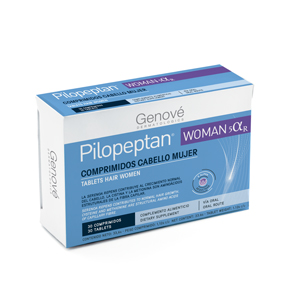 Pilopeptan® Woman 5αR
Caracteristicas
CARACTERÍSTICAS DE Pilopeptan® Woman 5αR
Androgenic alopecia occurs when there is a progressive replacement of the terminal hair for downy hair, shorter and thinner, due to genetic and hormonal factors.
It is particularly pronounced after menopause, since there is a decrease in estrogen levels and increase in androgens in this period.
Pilopeptan® Woman 5aR is a dietary supplement that contributes to normal hair growth and helps to reduce androgenic hair loss by avoiding hair-follicle miniaturization.
It is formulated with B Vitamins, Zinc, sulfurized Amino acids, Hydrolyzed gelatin and Hyaluronic acid that contribute to nourish hair follicles and fortifies hair fiber.
Sugar-free. Sweeteners-free. Suitable for low calorie diets (4 Kcal/ tablet).
Lactose-free. Gluten-free. Suitable for intolerances to milk, egg and soy.
The encapsulated form of Zinc (SunActive Zn) improves gastric tolerance.
It contains hydrolyzed gelatin of porcine origin.
Modo de empleo
Take 1 tablet of Pilopeptan® Woman 5aR after breakfast for 6 months. Stop taking for a month and restart later.
Composición
Composición
Hydrolysed Collagen
B-group Vitamins, such as Biotin (Vitamin B7), all at 100% of NRV
Vitamin E
Zinc (100% of VRN)
L-Cystine; L-Methionine
Extract of Serenoa repens
Extract of Cucurbita pepo L.
Extract of de Punica granatum L.
Extract of Solidago Virgaurea L.
Hyaluronic acid
Sugar-free/ Sweeteners-free/ Gluten-free