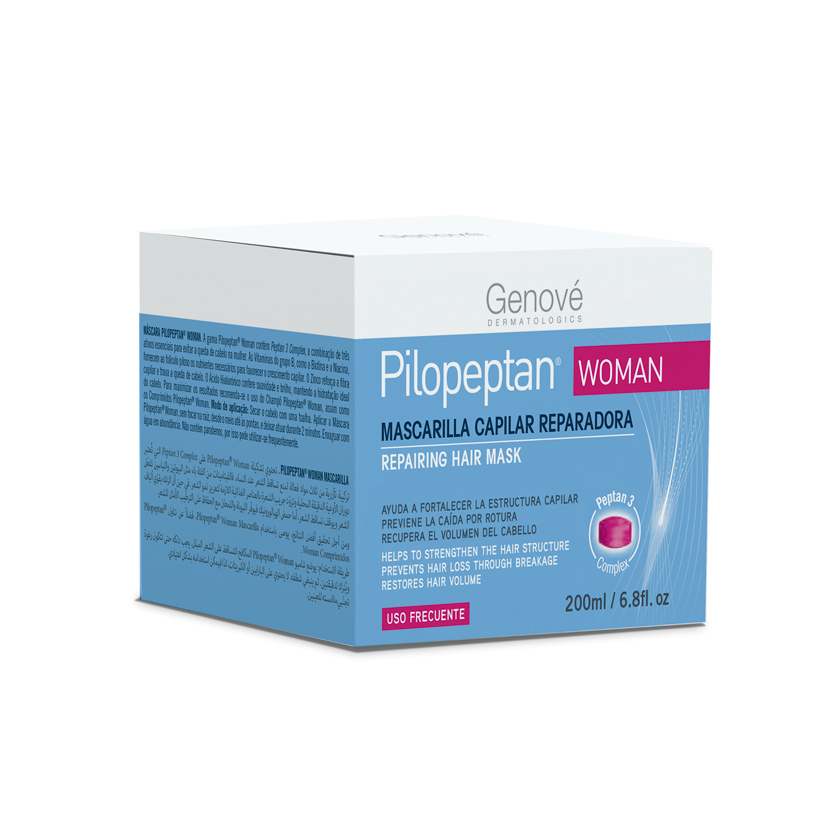 WOMAN: HAIR REGENERATING MASK
Caracteristicas
CARACTERÍSTICAS DE WOMAN: HAIR REGENERATING MASK
Pilopeptan Woman Hair Regenerating mask regenerates hair fibre in a few minutes and covers all needs of damaged hair.
It prevents hair-loss thanks to ingredients such as Vitamin B complex and Keravis which help achieve strong hair that does not break or fall.
Hair structure is strengthened thanks to the essential dietary element: Zinc.
Recovers volume and hydrates hair through the actions of Hacid which provides necessary hydration and nutrition to hair.
USE
Towel dry hair. Apply product to hair without reaching the roots, from mid-lengths to  tips and leave it to work for 1 to 2 minutes. Rinse abundantly.Paraben free. Sulphates free. Frequent use.
INGREDIENTS
INGREDIENTS
Containing:
• Vitamin B Complex and Keravis. Strengthens hair and avoids hair-loss
• Zinc: provides shine and vitality
• Hyaluronic acid: provides hydration and volume